| Nepco Lake | Lakefront | By Wisconsin River | By The Tri-Lakes | Golf Courses Nearby | In an area of multiple Lakes | Paved Road | Building site | Live your dream life on this wooded Lakefront...
Open for Inspection Times
No inspections are currently scheduled
Nepco Waterfront Properties for Sale Wisconsin Rapids
Main Page for this property - https://thelandman.net/nepco-waterfront-properties-for-sale-wisconsin-rapids.html
Lakefront Building sites near Park, Beach & Playground!

Live your dream life on this wooded Lakefront property that features frontage on these beautiful clear waters! Close to all the fun stuff! 2 championship golf courses are just minutes away. Excellent fishing, swimming and boating right from your own property! Yet this property is also within minutes of fine dining, shopping, medical facilities and more! On the outskirts of Rapids and near the Wisconsin River, just north of Rome and The Tri-Lakes. Close to the county park, boat launch, beach & playground! This land beckons to you to bring your building plans. There may be a walk-out basement in your future here! This is priced well below assessed value, so don't wait. Pull out of the fast lane now, and steer your life to this rural, small town treasure before it's gone!
Wood County Wisconsin
Call Listing Agent Billy Tyrcha directly on his cell phone for faster service at 608-474-2109. Or call the office Toll-free at 1-888-696-8695. Call today for more information on this property and to setup a personal showing!
Tri-Lakes WI Area Information
Rome WI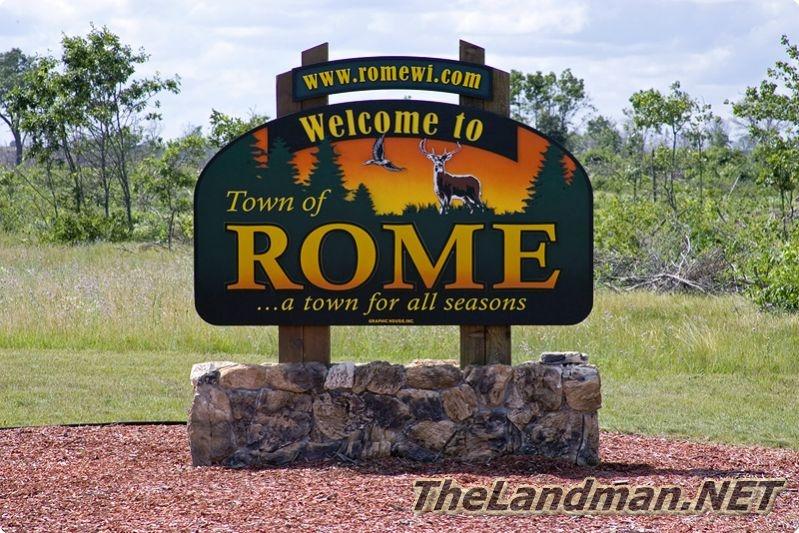 Rome Township is located at the northwest part of Adams County, Central Wisconsin home of the Tri-Lakes; Lake Arrowhead 300 acres, Lakes Sherwood 246 acres & Lake Camelot 445 acres. The areas around the lakes are heavily developed and have covenants, rules, regulations and restrictions. There are literally hundreds of deeded lake access parcels on both sides of Hwy 13 around these all sports fishing lakes. There are a couple of stream running through Rome including Chester Creek, Spring Branch which flows into Sherwood Lake, Fourteen Mile Creek which fills Lake Camelot and Lake Arrowhead then dumps in to Lake Petenwell that is part of the Wisconsin River Flowage System. Twin Lakes is also located in the Township right across the street from Petenwell right by Twin Lakes Nature Preserve; 45 wooded / wetland acres. There are two rock formations Hamilton Mound and D'oro Couche aka Dyracuse Mound part of Dyracuse Off-Road Park close to Monroe Prairie Recreation Area for ATVing. Most of the back roads are open to both ATVing and Snowmobiling via routes. Rome WI is known for the Lake Arrowhead Golf Courses; The Pine Course and The Lakes Course plus Room to Roam Dog Park.
Rome Township WI - https://thelandman.net/rome-township-wi.html

Central Wisconsin Small Acreage for Sale by Camelot Lake WI
This listing is also on | Adams-WI.com | Wisconsin-WI.com | Land-Wi.com | Lake-WI.com | Lake-Petenwell.com | ATV-WI.com | Snowmobile-WI.com
"Multiple Amenities may refer to the same thing depending on use and opinion"